Happy Halloween!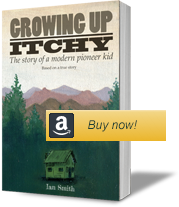 Halloween is a strange and unusual holiday, but it's nice to spend time with family and friends.
Let me take this opportunity to share the spookiest photo from Growing Up Itchy.
This picture is from chapter 15: Explosive Sundays, where boys of all ages are overjoyed when an unexpected event interrupts a sleepy back-country church service.
You can find the book available on Amazon here, in paperback and ebook.